Pamper Your Favorite Accessories and Keep Them Glistening With Our Jewelry Care Instruction.
We gladly provide you our exclusive ID Care Jewelry Warranty ("ID Care").
We want you to enjoy your new jewelry every day and provide the best care for your item.
ID Care is included with the purchase of each piece you get in our shop. The first day of the warranty begins from the day your order has been shipped to you and will continue for 365 calendar days.
The ID Care guarantees for the next 365 days:
– Free replacement of the following broken or missing parts: a clasp, up to two jump rings, one strand of chain, up to 2.5" extension, up to two wires (0-180 days).
– Free replacement of the following broken or missing parts: a clasp, up to two jump rings, up to 2.5" extension, up to two wires (180-365 days).
– Free pearl gluing on earring, ring and pendant settings (0-365 days).
– Free gemstone replacement on a new wire bar (0-365 days).
We will charge a small Cost of Materials fee, if the jewelry has:
– One broken chain strand (180-365 days).
– Two or more broken chain strands (0-365 days).
– Three or more broken or missing parts at once (0-365 days).
ID Care does not cover lost or damaged bails, pendants, earwires, ring settings, settings, earnuts, charms, pendant settings, pearls, gemstones. It might be replaced for an additional fee based on availability. Please note, that availability is not guaranteed.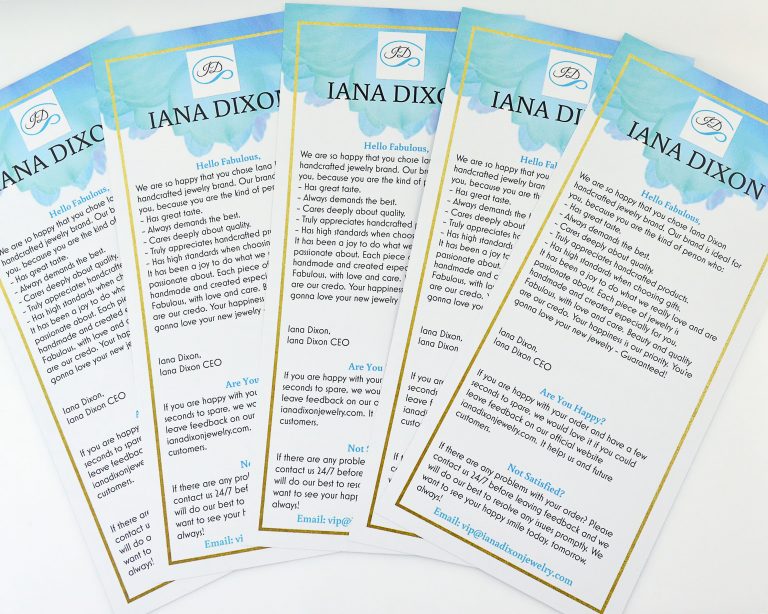 Please contact us as soon as possible if you have any issues with your jewelry. Send us clear pictures of the damaged jewelry and we will evaluate the damage and let you know the approximate Cost Of Materials Fee amount we will charge (if any fees apply). No work fees will be charged during the period covered by ID Care (0-365 days).
The ID Care will no longer be applied to jewelry if it is:
– scratched;
– ripped;
– smashed;
– chain parts shifted;
– cleaned with unauthorized/harsh chemicals;
– strongly tarnished due to inappropriate wear/care etc.
Such jewelry will be considered "Damaged in Use". In such case repair under warranty is impossible, because all parts must be completely replaced.
No repair, rework, replacement, return or refunds will be provided. Please, make sure you take proper care of your jewelry. Love it and treat as a Family Heirloom.
ID Care 365+
We will gladly provide jewelry repair after the warranty period expires. Work and material fees will apply. Please contact us via email and request repair.
How fast will your jewelry be fixed?
We will do our best to repair your jewelry as soon as possible and return it to you. We will provide an estimated repair time once you contact us with a repair request. Usually, jewelry repair takes from 14 to 45 business days.